NETSOL Technologies Appoints Darryll Lewis as Managing Director of NETSOL Technologies Europe
ENCINO, Calif., May 23, 2023 (GLOBE NEWSWIRE) -- NETSOL Technologies, Inc. (Nasdaq: NTWK), a global business services and enterprise application solutions provider, today announced the appointment of Darryll Lewis as its new Managing Director of NETSOL Technologies Europe.

With over twenty years in the receivables and asset finance software industry, Mr. Lewis is a highly experienced and accomplished leader with a track record of driving business growth and creating innovative solutions for clients. Prior to joining NETSOL, Mr. Lewis has held executive roles at several leading asset finance software companies where he led teams responsible for developing and implementing successful software solutions. He last served as Global Sales Director for Lendscape, the world's leading technology provider for all forms of secured finance and secured lending software solutions.
"We're pleased to have Darryll join the NETSOL team as our new Managing Director for NETSOL Technologies Europe. I am confident that under his guidance and leadership we will continue to evolve and deliver exceptional value to our clients, particularly in the United Kingdom and larger European region," said Najeeb Ghauri, Founder and CEO of NETSOL Technologies, Inc. "His extensive experience has empowered him with a deep understanding of the industry and the knowledge to deliver strong outcomes for our clients. Darryll brings a unique blend of technical expertise, strategic thinking, and exceptional leadership abilities to NETSOL, and we believe that his focus on building strong client relationships and driving innovation aligns perfectly with our Company's mission and values. I look forward to working closely with him."
Commenting on his new appointment, Mr. Lewis said, "I am delighted to be appointed as Managing Director of NETSOL Europe. NETSOL is a recognized global leader in fintech IT and SaaS-based offerings to the global leasing and finance industry. I am looking forward to building on existing and new client relationships to drive innovation for the Asset Finance market, and I'm fortunate to be joining and leading a team that is already delivering exceptional value to NETSOL's clients."
About NETSOL Technologies
NETSOL Technologies, Inc. (Nasdaq: NTWK) is a worldwide provider of IT and enterprise software solutions primarily serving the global leasing and finance industry. The Company's suite of applications is backed by 40 years of domain expertise and supported by a committed team of more than 1750 professionals placed in eight strategically located support and delivery centers throughout the world. NFS, LeasePak, LeaseSoft or NFS Ascent – help companies transform their Finance and Leasing operations, providing a fully automated asset-based finance solution covering the complete leasing and finance lifecycle.
Forward-Looking Statements
This press release may contain forward-looking statements relating to the development of the Company's products and services and future operation results, including statements regarding the Company that are subject to certain risks and uncertainties that could cause actual results to differ materially from those projected. The words "expects," "anticipates," variations of such words, and similar expressions, identify forward-looking statements within the meaning of the Private Securities Litigation Reform Act of 1995, but their absence does not mean that the statement is not forward-looking. These statements are not guarantees of future performance and are subject to certain risks, uncertainties, and assumptions that are difficult to predict. Factors that could affect the Company's actual results include the progress and costs of the development of products and services and the timing of the market acceptance. The subject Companies expressly disclaim any obligation or undertaking to update or revise any forward-looking statement contained herein to reflect any change in the company's expectations with regard thereto or any change in events, conditions or circumstances upon which any statement is based.
Investor Relations Contact
IMS Investor Relations
netsol@imsinvestorrelations.com
+1 203-972-9200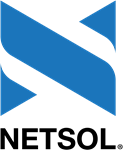 Source: NETSOL Technologies Inc.

Released May 23, 2023